Simon Lockwood
A Tribute to the Dying Light Bulb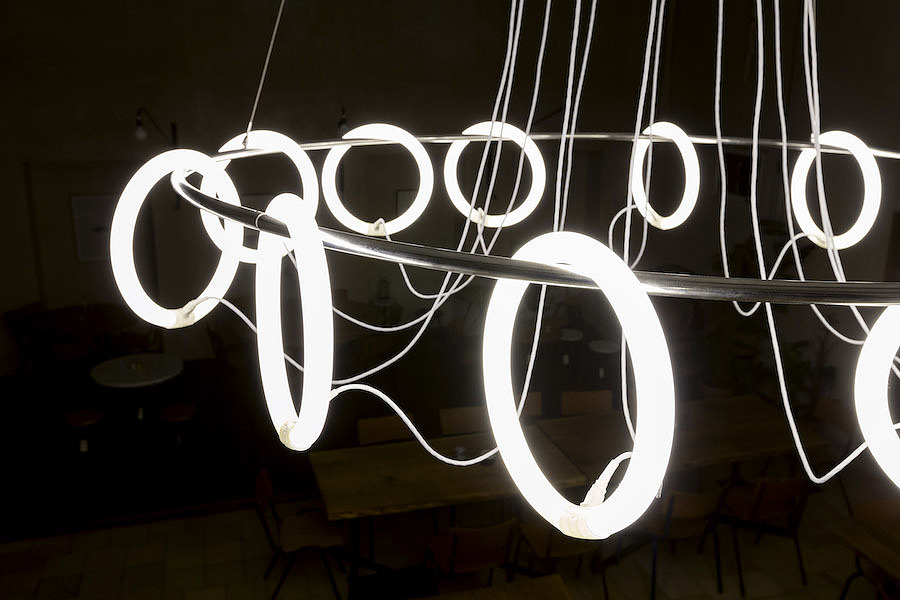 The combination of modern technology, design and elaborate craftsmanship is what you'll discover at Simon Lockwood's Berlin-based studio.
The Canadian native has been successfully running the studio since 2014 with his wife Stefanie Lockwood. Together, they design modern pieces, utilising technical processing and real craftsmanship. The design duo admit that whilst they love modernity, traditional production and processes can be equally as inspiring, along with science and even contemporary art. Method and material all come together at Simon Lockwood via the assistance of specialists, with the search for new production paths never ending!
The design behind light installation Ad Infinitum was intended for large entrances and grand rooms as they are found in Halleschen Haus. The installation consists of 12 round, fluorescent, stainless steel light rings. The polished steel additionally acts as a mirror and reflects the silicone and textile cables, creating an optical illusion.
"With the extinction of the light bulb, we have created a tribute to the coming age of the LED with our installation." Simon Lockwood
The Nike bed was made from hand by a single piece plywood and the legs from solid pinewood. The task was to produce a bed with the least material possible. The result is an easily transportable and assembled bed, with stability and minimal weight.
The Peppermill consists of a mixture of gypsum and acrylic-based composite resin that are produced in only limited batches. Each mill is unique through the mixtures of different pigments. The columnar Peppermills are not only an object of use but also simple and beautiful objects around the home or as a table setting.
Text: Sara Umbreit
Photos: Simon Lockwood