Oji Masanori
Japanese Craftsmanship Taking a Modern Turn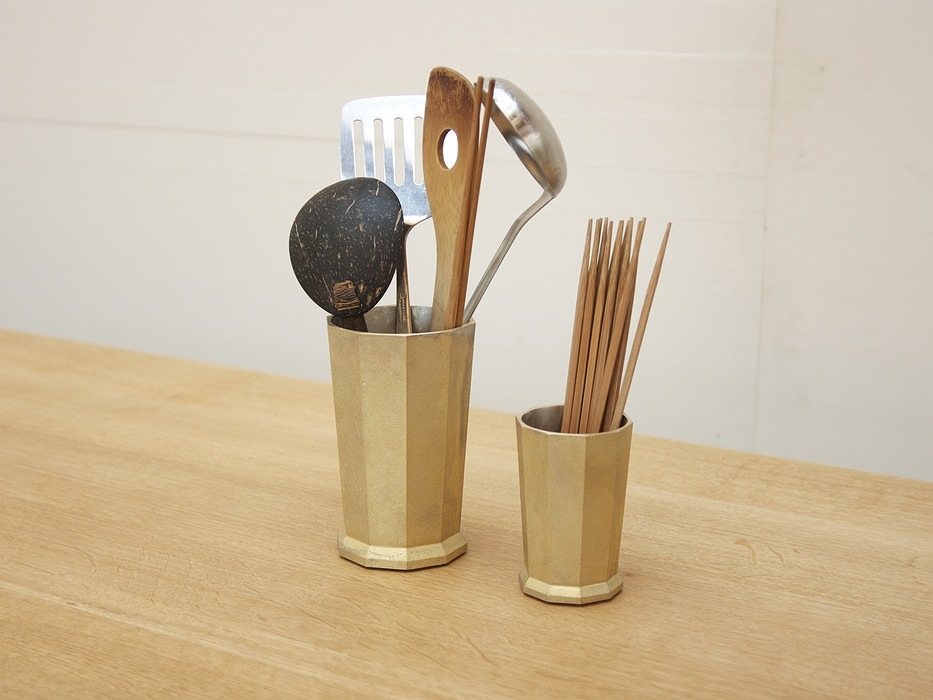 Born in Hiroshima, Japan, Masanori studied architecture and later went on to design and manufacture modern, Japanese home accessories and tableware in traditional craftsmanship. His everyday objects can be characterized by their simplistic, modern design and practicality, always coming in a limited edition. Natural materials left raw and untreated give the collections a pleasant feeling of authenticity. Masanori's work is an absolute delight for design lovers who appreciate their finds natural, traditional and reserved!
FUTAGAMI translates to that of a raw, brass product. The material works especially well in the kitchen for cutlery and other tools since it's water resistant and evades oxidation. The inside of the container is made of tin, making it also suitable as a vase or a storage unit for pens on a desk. It's not just a beautiful, but also a very durable product for the home!
Oji Masanori also adheres to the strict health requirements of his native Japan. His cutlery set is made of brass and silver (in the upper part) for not only aesthetic reasons! According to the Japanese Food Hygiene Law, the total content of lead cannot be more than 0.1 percent in total and must be 0 in areas where the material comes in contact with the mouth. With this we can definitely talk about healthy design!
Soups have held a long tradition in Japan and Masanori has taken this custom of Japanese cuisine into consideration in his collection, especially with his soup spoon. Here, too, he uses brass and silver.
Butter, jam and spices are all foods that require a special tool for their enjoyment. For these, of course, Oji Masanori has created his own cutlery: a butter knife, jam and spice spoon.
Oji Masanori's Tableware is not only made out of brass or silver, but also exquisite wooden objects formed by hand which we will introduce next week!