George Nakashima
New Hope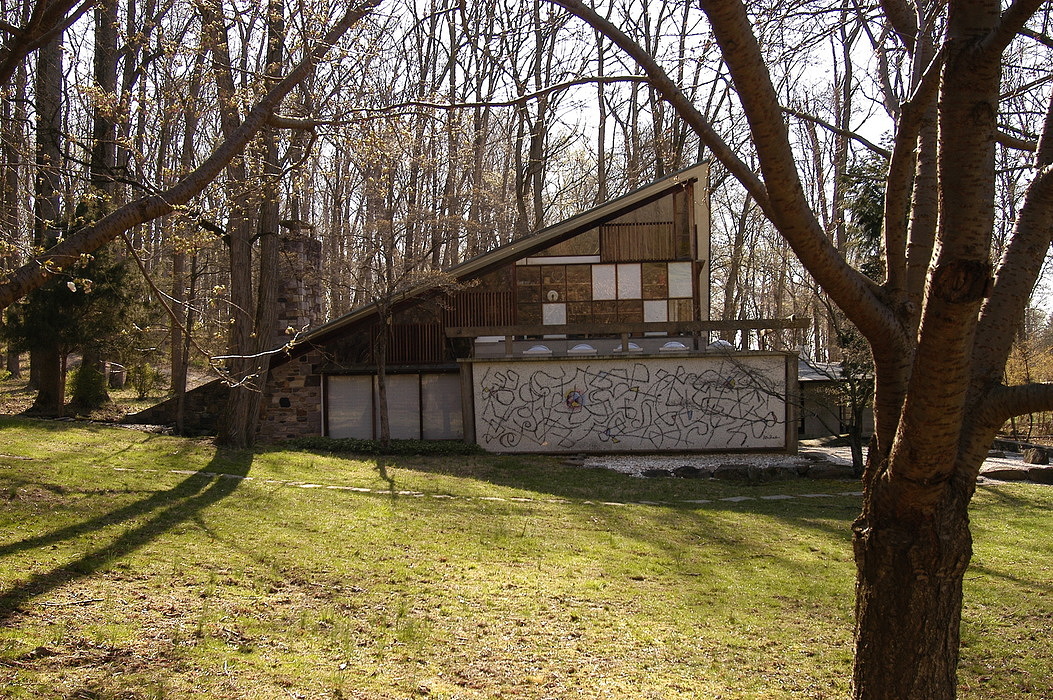 American-Japanese architect George Nakashima came to Pennsylvania in 1942 to the New Hope Farm. Here he created an impressive legacy of woodwork which continues still today through his daughter Mira who works as a manager at the property.
George Nakashima was born in 1905 in Spokane, Washington and grew up in the forests of Olympic Peninsula. In 1929 he finished his architectural studies at the University of Washington with a Bachelor of Arts and received the Prix Fontainebleau from L'Ecole Americaine des Beaux Arts in France. In 1930 he graduated with a Master at MIT.
After spending some time in Paris, Nakashima traveled around the world and landed a job in Tokyo in 1934 in the office of architect Antonin Raymond. In 1936 he sent him to Pondicherry in India. He was one of the first students of Sri Aurobindo, a philosopher, Hindu mystic and yogi.

When the war broke out, he returned to the United States via Tokyo. There he met the US-born Marion Okajima, whom he married in 1941 in Los Angeles. After seeing a Frank Lloyd Wright building under construction, he began to build his own furniture in Seattle.

Up until then he had been working part-time as an architect. It was in 1942 when Nakashima along with his wife and daughter Mira, together with other Americans from Japan, were sent to the detention center in Minidoka, Idaho. In 1943 Antonin Raymond financed and sponsored them to stay and work at the farm in New Hope, Pennsylvania. Nakashima rented a small house and made furniture. He later lived in a tent and built on his own house and a workshop. Over the course of time, he managed to buy nine hectares of land on which he continued to build on until 1975. The "Pole Barn" was built by his granddaughter after his death in 1990 to accommodate his enormous collection of wooden objects.
In 1981 Nakashima wrote his inspiring biography and the manual for woodworkers "The Soul of A Tree". In addition to many awards from the AEA (Institute Honor Awards for Architecture) and other prestigious institutes, he also received the Third Order of the Sacred Treasure of the Emperor and the Government of Japan in 1983 as a recognition of the cultural exchange that he held through eight exhibitions in Japan (1968-1983). His last exhibition in the USA - the Full Circle retrospective opened at the American Craft Museum in 1989, where he was declared the "Living National Treasure" in the United States. This exhibition was also brought back to New Hope when he received his final award "Almnus Summa Laude Dignatus" from the University of Washington, a week before his death in June 1990.

New Hope now consists of a total of 14 buildings. Among them are the house (1946), garage and laundry room (1967), workshop (1946), showroom and office (1954), finishing workshop (1954), chair and lamp collection (1956), Conoid Studio (1956), Pool house and pool (1960), reception hall (1975-1977), woodwork shop (1961-1968), new storage hut (1982), pile hut (1990 and 1995).
Text: Sara Umbreit
Photos: George Nakashima Woodworker, S.A. New Hope, PA