Linda Ehrl
An Aesthetic Addiction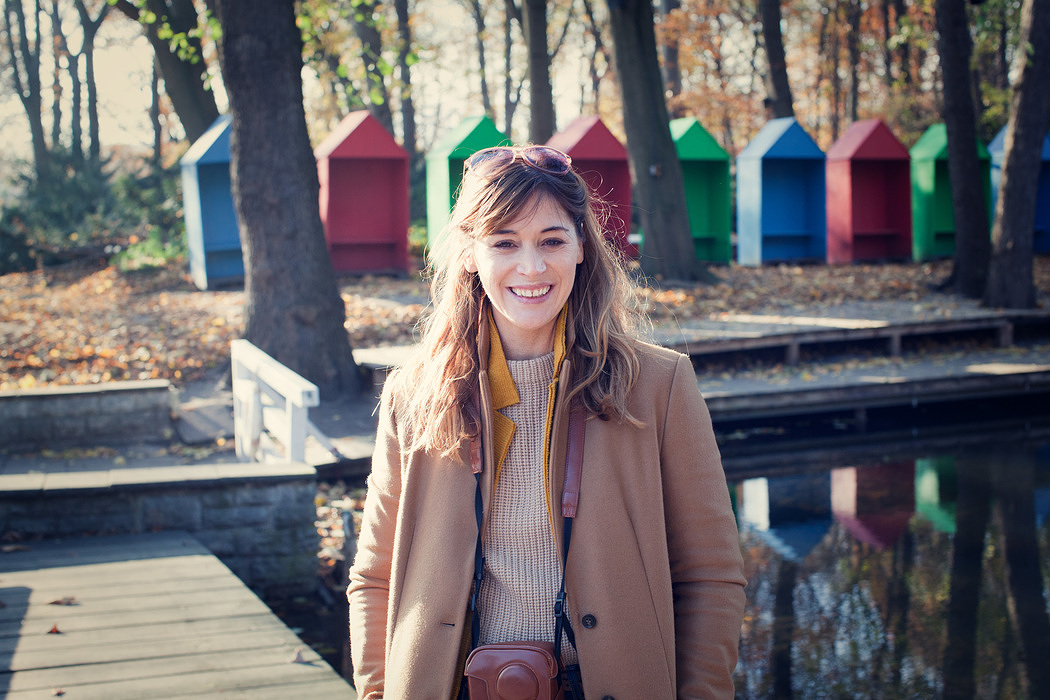 It's often people who take unusual paths in life that make others the most inspired. Even more impressive, are those not just following in these directions, but having the courage and curiosity to start something new and take a chance on their own.
A 'calling' cannot always be discovered during study, nor the year after that first job, it's about accepting that this purpose may only appear somewhere along the way, when you least expect it. The whole experience is completely different for each individual - with an endless result of possibilities. One thing we do know is to go with the flow, and everything will eventually work out.

The career of Linda Ehrl is one that has been constantly evolving the day she started travelling, sometimes even changing industry completely when moving to a new place (and she's seen a few!). Her 'going-off-road' attitude and courage for embarking and establishing new careers seems to have resulted in nothing short of positive for her. It doesn't matter if it's traditional art, digital or commercial, or fashion shoots shot for print, advertising or online, set designs - the list is endless, as is what can be expected of Linda when requiring her expertise. Her concepts are a combination of spontaneity and intuition.

After her fashion design studies in Berlin, Ehrl abandoned the 'up and coming' German capital for a more cliche move in the fashion world - a ticket straight to Paris. Here she worked for the likes of Atelier Vernoux and created haute couture embroidery for fashion houses Ungaro, Chanel, Prada, Dior and Karl Lagerfeld. It was here where Ehrl discovered her love for detail.

Ehrl later climbs even further up the ladder and joins the textile and graphic design team at Chloé International for many collections.

In 2004, she then leaves Paris and starts her styling career as a fashion editor for the Sportswear International Magazine in Milan.

Two years later, Ehrl was back in Berlin, taking over the title as Bread and Butter's Fashion Director.

From this point on, other projects such as Highsnobriety Magazine and Freestylemagazine.co.uk were already benefiting from the experience of Linda Ehrl and her expertise as a consultant in the fashion world.

Since 2008, the former fashion designer now works in Berlin has a freelance art director and stylist. Ehrl's interest and skillset has expanded over the years to also include interiors, which she discovered a love for alongside fashion. While most of her passion for practical design in fashion has slowly dwindled over the years, Ehrl still applies these skills in both disciplines for styling or interior decoration.
Sara: You actually came from a background in fashion, how did the your interest for interiors come into play?

Linda: I just have an obsession for beautiful things. Yes, I studied fashion design, but then worked for 5 ½ years as a fashion journalist and stylist for a few international fashion magazines. I then became a fashion editor where my main responsibilities were the concepts and implementation of all fashion editorials.

That meant I was always looking after the theme of the shoot, the venues, settings, props etc. basically the entire thing from start to finish. Then of course becoming a freelance stylist got a little boring being only on set, whereas before I had the whole 'show' to look after.

Then the universe (laughs) and friends in the industry told me that I should look into art direction, and then one thing let to another. I started with visual merchandising, prop styling and art direction for advertising shoots, exhibition stands and events etc. and it went from there.

Gradually it became apparent that I felt really connected to the interiors sector, it also catered to my passion for modern furniture and its history.

I even had a time when I wanted to concentrate only on interior projects, but then again, I love the variety and synergy of always having different projects and look forward to tasks that I would never have imagined previously. I think it's great when you can work with people who have a similar style and the same addiction to aesthetics as I do.
Sara: How do you get your inspiration for your projects? Are there different methods of sourcing inspiration when it comes to interior and fashion?

Linda: When I started, I was way more interested in interiors having just lived in New York. I was so inspired by what I saw in public spaces such as restaurants, hotels, galleries, fashion stores etc. I let these memories feed the source of my inspirations for projects for a long time. Currently what inspires me most are projects which connect interiors and fashion. That's why I love to go to the Salone di Mobile Design Week in Milan. Milan has an incredibly high demand and lengthy history in both sectors, the city connects the two very elegantly and naturally. Even films, dance, music, art and books inspire me… basically anything that can take me to another and give me a visual kick. Sometimes I dream of a setting and then will jot everything down. I also collect photos, research imagery (formerly in magazines but now mostly online)... I live for an emotional message in a picture, it can tell so much. Therefore, the most important thing for me in my projects is that the visual aspect is covered. That means the result has to look so good and be a beautiful addition to my website based on purely on photos or film. I need myself to want to look at it again and again afterwards.

Sara: What are your predictions for any upcoming trends in interior decoration?

Linda: That's a difficult question, there are so many styles that eventually develop into their own trends. As already mentioned, I'm currently inspired by Italian design the most, especially around Milan in recent decades. This could be a kitschy vase by Ettore Sottsass, or hand-painted wallpapers by Piero Portaluppi. I also love the combination of; a tree house, decorated in Bali, with Roche Bobois sofas.

I find it very interesting what's happening in the design scene in Belgrade and Prague right now. I prefer decor that is really old with a very vintage characteristic, but with timeless designs. I love wood that's recognisable as wood. This trend will come again… Beautiful, genuine, lived-in wood can be used as the tiniest of details or to downplay any kind of kitsch. Sometimes I like to connect various styles together to find something new. If it's a furnishing job I really try to imagine the person who lives there, and connect the decor with that person. Some of my colleagues and clients say I put the soul into a place.
Sara: What are some of your wardrobe basics and things you can't live without at home?

Linda: My go-to's are a great pair of blue jeans, a white T-shirt, my Isabel Marant Admiral Blazer and my beloved Acne Pistol Boots! Among my furnishings are a few industrial stools, big, beautiful books on fashion, art and design, design toys, plants, picture frames and blankets. These things I will always incorporate into my interior decorator jobs.

Sara: So what exciting interior projects are you currently working on?

Linda: Right now I'm working mostly with the art department for a fashion store and their styling on shoots. There's actually a perfect synergy with something like interiors and set design. And then of course with fashion styling and visual merchandising. I find it exciting and really important to take something new away at every job and broaden my horizons in some way.
Sara: Which dream project would you like to happen?

Linda: I have so many dream projects in my head. Obviously a collaboration with Wes Anderson and Roman Coppola would be ideal (laughs). Yes, a design film would be the best! I'd like to do the complete art direction, the art department and the styling for a short or even long film as I believe these are such key aspects to any movie.

I wish someone would offer me my own shop window, where I could change it whenever I want and into whatever I wanted to get inspired, sometimes with fashion, maybe an installation or cooperation. Otherwise I would like to have a small hotel and really give it a soul!