Ladies & Gentlement
"We ​Take​ the Idea Of "Play" Very Seriously."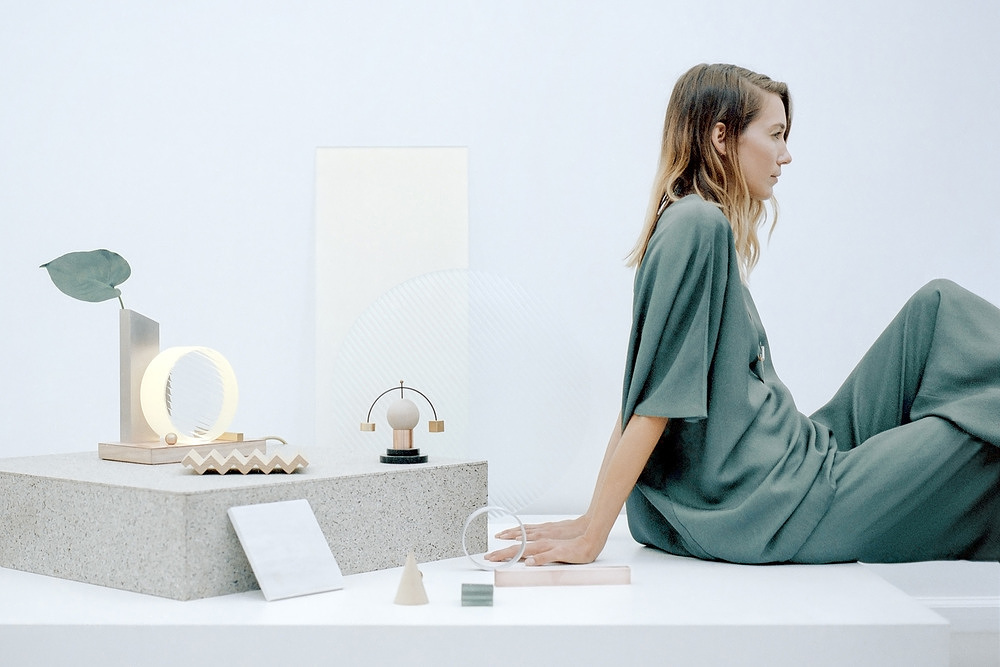 Headquartered in both Seattle and Brooklyn of the United States, Dylan Davis and Jean Lee's design studio is focused on blending warm minimalism and simple elegance with a playful touch.
Founded in 2010, Ladies & Gentlemen has stayed true to this philosophy with a diverse range that challenges material and functionality. Aside from projects, the studio concentrates predominantly on small objects, home accessories, furniture, lighting and jewelry. Jean and Dylan describe their approach to design as open and multidisciplinary.
Sara: What is your approach?

Jean: We ​take​ the idea of "Play" very seriously. We try to keep a sense of curiosity in how we approach our work, our design, and our life. We're both hands-on people who enjoy the process of looking at the physical materials and the physical property of something to explore all the possibilities without preconceived notions of what it is or what it supposed to be. It's similar to how as kids, we learn to freely play with building blocks, play in the sand, play with food​. It's an intuitive and direct way of discovering things. We fully believe that even as grownups, this sort of playful explorative spirit is essential for us to stay creative, curious, and open.
Sara: What do you focus on in working with certain materials?

Jean: We mainly work with certain materials based on exploring their physical propert​ies​ and ​ways we can compose them to celebrate the material itself. For example, our Kazimir light​ ​was ​conceived as we were playing with​ a​ bunch of random glass samples​. When overlapped, the glass created fascinating patterns and trippy effects.​ From there, the lamp was born.​ It's one of those ​discoveries ​that would have NEVER came up ​to us if we were just working ​through drawings and computer models. ​
Sara: How does your workflow looks like, where do you get inspiriation from and who does what?

Jean: Generally speaking, we switch between wearing different hats and also switch between project​s​ depending on what needs to be done, but we both design together. We can each come up with our own initial design ideas, and then we design together to refine the ideas. For certain types of things such as lighting, Dylan has more of an engineering mind to get into the technical details, whereas selecting the right material and color combo, that's more up my alley. Every so often, we do inspirational trips to museums, galleries or neighborhoods ​for inspiration. But when we don't have time to go out, we'll do this fun ​creative ​exercise we call Sketchercise. ​ ​​Basically, we take a book that we find inspiring and open it to a random page. We set a timer for 2 minutes and challenge ourselves to sketch as many ideas as possible inspired from that page. When 2 minutes are up, we switch to the next page and do it again.​ Working on ideas at that speed allows us to open our minds to be more loosely observant, recognize inspiration around us, and not get too fixated on one approach or solution. ​
Sara: What are you working on currently?

Jean: Currently, we're working on new Shaker-inspired design​s​ for a project ​we've co-organized ​called Furnishing Utopia (shakerdesignproject.com) It's a special project​ that bring​s​ designers from all over the world to ​a workshop at Hancock Shaker Village​.​ We spen​t 5 days ​studying ​the village's archive​s in depth. I​t​ was​ enlightening​ to see such beautifully made and thoughtfully designed objects from hundreds of years ago, and to ponder how their principles can relate to the modern context and ​​inform our work. ​ After the workshop, we​'re​ all ​challenged to ​​create ​designs​ in response ​to ​our experience. The first collection launched during ​2016 ​NY Design wee​k; an amazing show at Sight Unseen Offsite! N​ow, we're working on the next collection for 2017 with more participating designers from Norway and ​the ​Netherlands.
Sara: How does your dream project looks like?

Jean: We dream of projects that involve cross-cultural exchange​s​, travel​ing​, learn about ​other culture​s​, meet​ing​ other designers & makers, ​and ​exchang​ing​ ideas and skills. We think there's a lot of value ​in bringing different creative people from different place​s ​to design in response to the culture & location. ​We're currently researching residencies that may bring us this kind of experience.​ One other dream project is to design a playground of some sort!
Sara: Which design studios do you admire and why?

Jean: We really look up to design duos such as Scholten & Baijings and Muller Van Severen​ as well as classic couples like the Eameses or Vignellis​. We admire studios who​ are ​​​​so prolific and explores many different creative disciplines no matter how big or small.
Text/ Interview: Sara Umbreit