Fish & Pink
Slow & Steady Wins the Race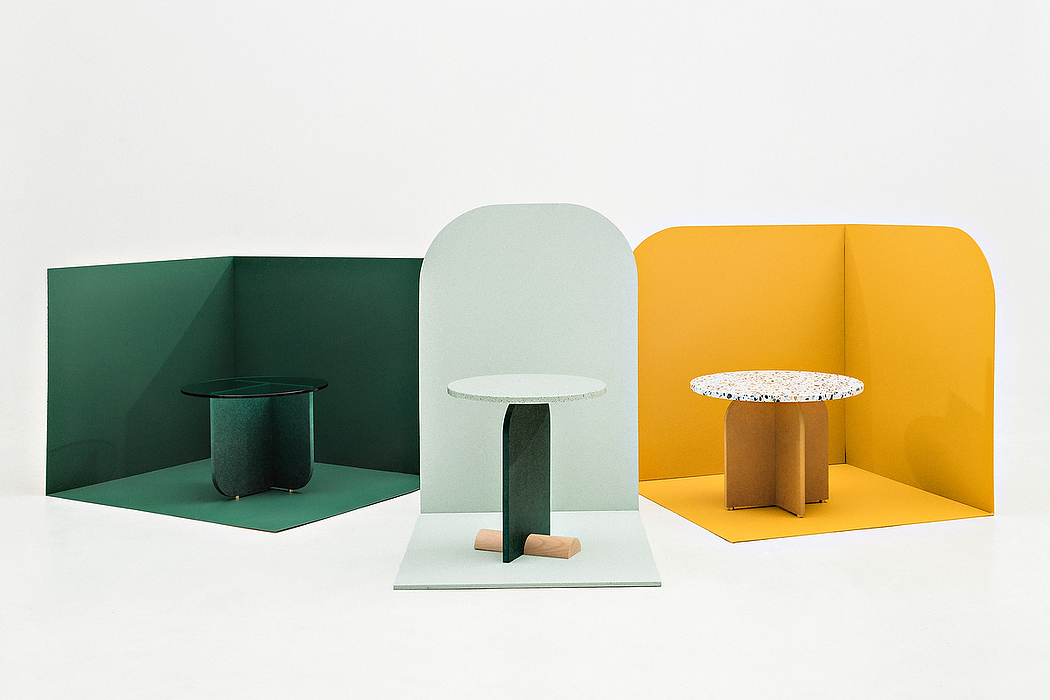 Swedish design duo Fish & Pink create colorful and eclectic furniture that has the ability to stand longer than your regular prototype.
For our interview, Martin Eckerberg explains the design process with his partner and co-owner Fanny Ollas. They want to do it right, from sharing tasks, to both agreeing on important aspects of their designs such as the materials, individuality and sustainability. Take a look!
Sara: Where did you both meet?

Martin: We started dating 3 years ago and more or less immediately become a couple. At that point we didn't think of creating our own studio/brand but common interest in design and creative work is always subjects around the dinner table and suddenly one thing led to another.

Sara: Martin, you are a furniture designer, Fanny started as a Fashion Designer - in which ways are you combining both disciplines in your designs?

Martin: The most obvious would be that Fanny is bringing the skill of how to work with colors and combining different colors with each other. Martin is more hands on with the material and can tell what sort of material and finish would be the best for a certain idea. But in the end its hard to say who decides what and it doesn't really matter. We get inspiration and learn from each other all the time.
Sara: Are you both taking different responsibilities in the process of designing?

Martin: I obviously know a lot more of the technical aspects of developing a furniture. Before Fish and Pink I worked for studio Formellt for three years and that gave me a lot of insight into the industry. Fanny brings more of a clear mind into the process and has a different approach. She is a much more experienced designer but from a different field since she has worked for H&M for many years. Together we try to be bold and bring some unexpected ideas to our products and not focusing too much of the typical Scandinavian heritage

Sara*: What inspires you - where do you source new ideas from?

Martin: For our first collection we discovered the material terrazzo when we stood at the platform of a train station in
Stockholm. It suddenly hit us that this was the absolute finest flooring we had seen and we knew immediately that this material was too nice to just be floors in public spaces. It was the start of a period of countless experiments and research to learn more about the terrazzo technique. But we try to take it slow. Having new ideas is never an issue but to turn the ideas into something real is time consuming and usually costs a lot. Therefor we try to make our first collection "freckles ans shine" perfect. Not just making a few prototypes and then move on.
Sara: Which aspect of your designs is sustainable?

Martin: It is very important to us that we don't just add something that will last a few years and then thrown away. If you use solid materials that actually will withstand the test of time we believe you have a come along way. Big brands who produce cheap products and call it "democratic design" that will break when you move to a new apartment is not really the future. We try to use more durable materials and design products that doesn't look like everything else. We use refined materials where the raw materials come from the nature. The terrazzo is manufactured in Italy where natural stone, cement and water is mixed together, poured and then ground to a solid top. For the base we use Valchromat, a sustainable high-density compressed fiber material. The wood fibers is FSC-certified residue from timber mills and forest while the dyeing process is organic.

Sara: Which future projects you thinking about currently, what is it you would like to do next?

Martin: We have an idea of turning a typical cheap plastic product that everybody uses daily in their home and re-design it to make it more durable and beautiful. What it is we can hopefully reveal during 2017.