Sigurd Larsen
"You Have to Tell a Good Story"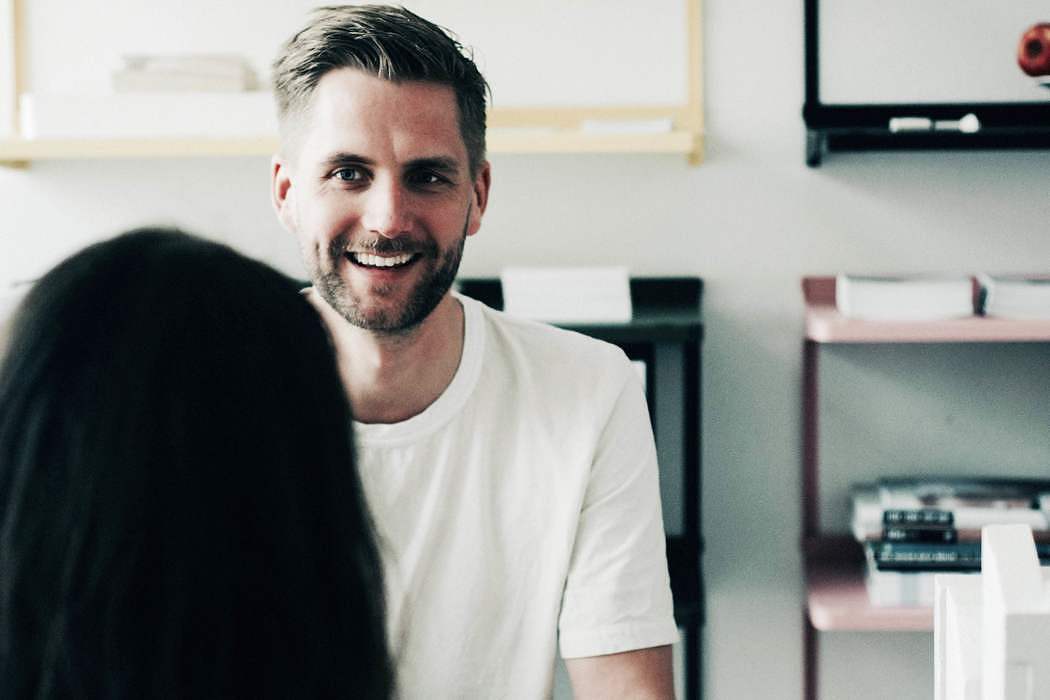 We visited Danish designer Sigurd Larsen in his Berlin studio to discuss his take on the connection between architecture and furniture in design.
First and foremost, Larsen considers it essential to have a strong story behind each project. This creates added value for his customers, and additionally a concept which is experienceable.

Sustainability is not something he wishes to proclaim, but more something which, in his opinion, should naturally considered for our environment.

Sara: How different is it working between architecture and furniture for you?

Sigurd Larsen: Not at all different. I like to work with both. I'll often have an idea for a building that can later be used for a piece of furniture. It's simply an exchange and I always try to combine both. Sometimes you just fall in love with a material. Take our concrete furniture for example, the material is actually intended for the construction industry and used on entire high-rise buildings. We then wanted to build furniture from this as I found the aesthetic really interesting. This is the type of exchange I find the most exciting.
Sara: Are you very conceptually oriented with your projects?

Sigurd Larsen: We work very conceptually, there always has to be a strong idea behind it. This can be seen in our project for the Michelberger Hotel where the rooms we designed are very conceptual. In other words, each concept must work. Above all, in architecture, it's not just about creating a work of art, but also something that can also be practical.

Sara: What is the idea behind the concept that you did for the Michelberger Hotel?

Sigurd Larsen: The Michelberger Hotel has a new series of rooms which we designed all differently. We developed the whole concept, the rooms, each kitchen, sauna etc. and integrated the design from a completely empty space. The idea behind it was to start from how a guest would on arrival. Whenever you're somewhere new, it's natural to want to delve in and explore everything. This is why the Hideout rooms for example, have many doors which allow the visitor to be entertained whilst discovering the room. After each opening of a door, a new connection between the rooms is created. The guest can adjust to each room individually at their desire.
Sara: What past projects of yours have proven to be a challenge?

Sigurd Larsen: We have just launched two new projects which was a big challenge. It involves two detached houses in Denmark, close to Copenhagen, which must be completely low-cost and sustainable. We found this project very exciting! This means that we had to build ecologically for very little money. We have to be creative in order to achieve everything within budget and also provide proof of sustainability. This is definitely no small feat but we're off and the building permit came this week! (Laughs) We managed it finally after 3 months of intensive trialling! It was definitely a big challenge. I deliberately said yes to the project for the learning experience. Having this knowledge was something very important to me. At the beginning of new projects there are always big question marks that will change during the process. Tasks like this though are particularly exciting because one is forced to think differently. We have, for example, a project (pointing to a model on a table) where it is all about incorporating very narrow living space for students with maximum space and flexibility.

Sara: Do you have any personal focuses for your projects?

Sigurd Larsen: Good question. I think you always have to have good stories to tell. If you can't say anything interesting about a project then they can be seen as somewhat dull I think. Of course, I don't explain to everyone who comes into a room where exactly the idea comes from, as he should be able to experience it alone. If this claim is not apart of the concept, the space can be relatively unstoppable. So from all of this, there must be the idea and concept always noticeable in the end. Of course you need a roof when it rains, but also a roof you can tell a story with, which can also be up for discussion in design. I think it's paramount to create some sort of value.
Sara: Is sustainability also a focus of yours?

Sigurd Larsen: I do not make this a rule, but I'm happy if we can work sustainably. I think there are three levels of ecological design; Ecological Design 1.0 - roughly similar to the style of Christiana where you can see second hand windows made of existing components. This was probably the first round of ecological building. The second round is more like a high-tech round where solar panels and windmills come into play. Everything works very technologically in its implementation, lots of glass, glossy and smooth surfaces. For the third point, I believe you shouldn't see that it's ecological. It should be easy to understand and fit naturally. I'm looking forward to level 3! (Laughs)

Sara: Do you have any wish projects for the future?

Sigurd Larsen: At the moment, a lot of residential and hotel projects are in motion. I think a lot of fun could be had in libraries - perhaps the future is not just simply a store of books. Re-interpreting public spaces, which have always been subjected to the same concepts would also be exciting. Or, for example, large apartment buildings. This is an area where I could work all my life. I find living as a topic to be extremely exciting.
Sara: You are also a lecturer for architecture at the University of the Arts in Berlin. Is there a certain direction for the new generation of designers and architects? Do you sense a future direction that will affect these areas in the coming years?

Sigurd Larsen: I think we are moving away from modernism and going into an area where we want to experience something. Haptics are a big issue. At the moment we still see a lot of harshness. We sit for hours on screens where everything is very flat with little emotion. Our physical environment becomes more exciting when there is texture. But in general, I believe that we're always moving in tendencies. At present, people are looking for more longevity and added value for products. This can, however, also move back into the opposite direction. Then, people are looking consciously back for something temporary. It always swings back and forth like a pendulum.

Text / Interview: Sara Umbreit
Photos: Damian Diversert