Hallesches Haus
A General Store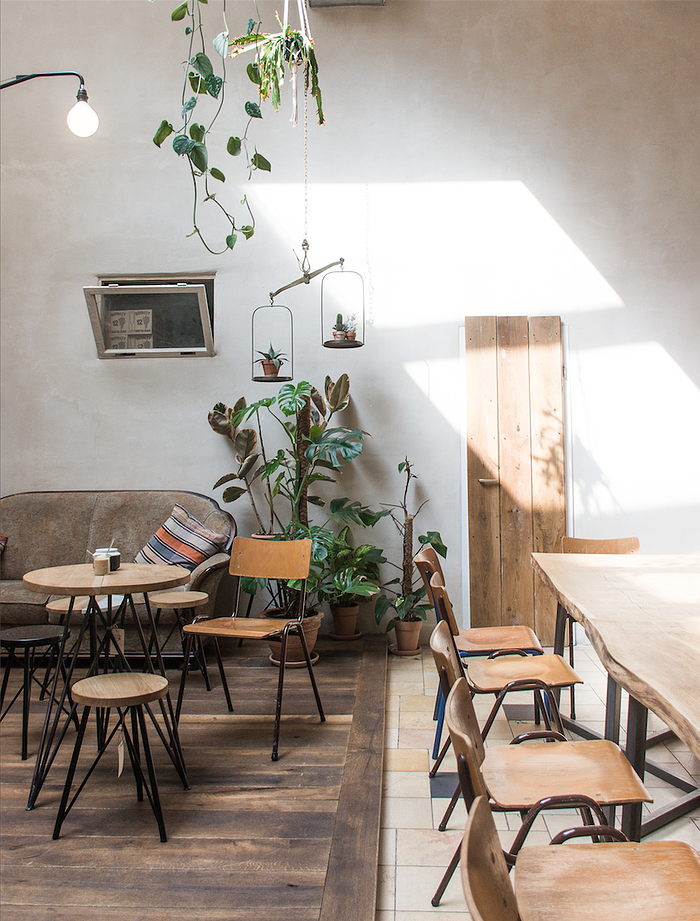 We visited Oliver, Michelle and Gillian, the trio behind Hallesches Haus in Kreuzberg to discuss all things inspiration and the ideas behind their store.
The space has literally been given a new light, along with a description that deliberately discards any use of the word 'design'. We're curious!
Sara: How did the project start?

Oliver: The idea was born when the three of us met at our previous job as buyers at Monoqi. At some point we visited the location here together, when the space was still the former 'Horst Kreuzberg', a techno club. The rooms were completely blacked-out and looked very different to what it is now. We have subsequently had to renovate and rebuild most of it until even the walls began cracking.

Sara: ..with your own hands?

Oliver: Yes (laughs) .. We invested a lot of time in the renovation. We began by opening the front room, and finally the restaurant area. We have ultimately opened HAHA in three stages.
Sara: Was the concept for Hallesches Haus understood from the beginning? What distinguishes HAHA from other showrooms and design stores?

Oliver: I think we had the feeling that something was missing in Berlin which we knew from home. I grew up in London and Gillian and Michelle in New York. It just lacked a particular design store that didn't even have to encompass the word 'design'… just a store where you can spend time eating something nice and drink a good coffee - surrounded of course by great design products!
Sara: The Hallesches Haus conveys such a cozy and relaxed feeling. People don't feel like they have to be cautious in here, or like they aren't allowed to touch something.

Oliver: Exactly. We offer more 'everyday design' products. We again don't like using the word 'design' here as well. We want give ourselves the image of rather a 'general store'. This is an American concept which could also be considered British as well, anyway there are quite a few general stores in the US. It's just a store that meets people's daily needs with well designed products for the home, garden or office. To give you an idea, this could be tools and blankets for example - normal things for the home you wouldn't necessarily call 'design products'. Our idea was just just open a shop.
Sara: What's important to you when choosing products?

Oliver: I would say to have a very wide range. We offer many products from the UK and the US, simply because these are out homelands. We're in contact with many designers from London, UK and the USA. While we import much from the outside we also work together with designers from Berlin, it's a good mix overall.

Sara: Do you have any future projects planned with Hallesches Haus you would like to share?

Oliver: Overall we would like to focus entirely on the location here right now. Regarding the future, we can really imagine expanding, even increasing the rooms here on the ground floor, this is definitely a possibility. We have already played with the idea to open another house in Hamburg…
Sara: Who else maintains the HAHA with you?

Oliver: The three of us all take care of the purchasing however the more we grow, the more each of us takes on certain responsibilities. Gillian for example, has claimed responsibility for the restaurant area and the food. She's a wonderful cook! She also takes care of the daily operations and finances of the house. Michelle plans events and I look after more the store and the online business.

Sara: What events do you organise?

Oliver: We organise private bookings where you can rent the Hallesches House for your own event. We have so many weddings this summer - eight in total! We also organise birthdays and look after professional catering with individually created menus.